Redundant laminar flow monitoring at one measuring point
SCHMIDT® duplex flow sensor SS 20.415 Twin* is a high-precision 2-in-1 flow sensor solution for laminar flow monitoring. A redundant monitoring of the laminar flow with two independently working flow sensors at one measuring point, without mutual interference, is thus successfully solved.
Monitoring the flow in cleanrooms and clean areas
A direction-defined air flow in clean rooms protects products from contamination and disruptive particles are safely removed. For this purpose, a uniform air flow from the ceiling to the floor is maintained in clean rooms with high cleanliness classes ("directed, low-turbulence displacement flow"; monitoring range from wN = 0.36 to 0.54 m/s). The measurement is carried out on the clean room side after the terminal filters. Since the air circulation is throttled during idle times, high-precision measurement of the air speed from 0.1 m/s is necessary.
Measuring and controlling the supply air flow with the SCHMIDT® duplex flow sensor SS 20.415 Twin
Two redundantly working flow sensors such as the SS 20.415 LED are often installed in one application, for example to map the control and monitoring of the laminar flow independently of one another. Limits are often reached when it comes to the optimal placement of the two sensors due to cramped spatial conditions. Even if the assembly can ultimately be implemented, the mutual influence of the two sensors is a big unknown.
With the SCHMIDT® duplex flow sensor SS 20.415 Twin*, both of the above problems can be easily solved. By combining two flow sensors that work completely independently, it has been possible to implement a redundant flow measurement at the same measuring position and to eliminate the mutual influence of the two probes. Both flow signals are made available separately from each other via two analog outputs.
Thanks to the SCHMIDT® quick mounting system, which is suitable for clean rooms, the duplex sensor can be exchanged for an existing sensor without any additional effort. The installation effort is identical, the space required for installation is slightly higher.
Highlights of the SCHMIDT® Duplex flow sensor SS 20.415 Twin*:
Redundant protection of laminar flow applications
Two fully-fledged flow sensors working independently of each other in one unit
Easy installation at a measuring point
No mutual interference of the measurement
Constrained space becomes a minor matter
Plug and play and quick assembly
Precise measurement of small flow velocities [wN]
Straight and angled design for wall or ceiling mounting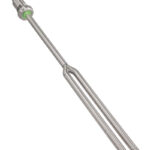 SCHMIDT® duplex flow sensor SS 20.415 Twin*: Optimally suited when double protection of the laminar flow monitoring is required and when space is limited. Two redundant flow signals from one measuring point – without mutual interference. Available in straight and angled designs (depending on mounting requirements
* protected by DE 20 2021 103 497.1