SCHMIDT® Safety Check and Press Calibrations
Our Services
SCHMIDT® safety check for all SCHMIDT® press systems with type examination
Service-Inhalt des Sicherheits-Check
Prüfung nach ZH 1/456
Messung und Prüfung der ZH-Schaltung
Nachlaufmessung
Sicherheitstechnische Funktionsprüfung
Allgemeine Funktionsprüfung
Ausstellung eines Prüfprotokolls
Prüfaufkleber an der Maschine
Für Lichtvorhangsysteme
Zusätzliche Prüfung nach ZH 1/281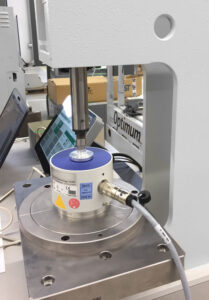 Calibration
SCHMIDT Technology ist einer der wenigen Pressenhersteller, die durch die DAkkS für die Messgröße Kraft akkreditiert sind (1).
DAkkS steht für die Deutsche Akkreditierungsstelle. Die Akkreditierungsurkunde ist der Nachweis, dass das Laboratorium die erforderliche Kompetenz hat und ein offiziell anerkanntes Kalibrierverfahren einsetzt. Ausschließlich durch die DAkkS nach DIN EN ISO/IEC 17025 akkreditierte Kalibrierlaboratorien sind berechtigt DAkkS-akkreditierte Kalibrierscheine mit dem DAkkS-Akkreditierungssymbol auszustellen.
Profitieren Sie durch akkreditierte Kalibrierscheine
(DAkkS-akkreditierte Kalibrierung) (1):
Bestmögliche Sicherheit
Kompetente Durchführung der Kalibrierung
Internationale Anerkennung
Garantierte Rückführung
Angabe der beigeordneten Messunsicherheit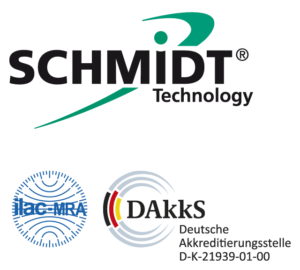 member of Deutschen Kalibrierdienst

Vor-Ort Kalibrierung
Für die Messgröße Kraft sind wir für "vor-Ort-Kalibrierungen" akkreditiert. Wir kalibrieren Ihre Presse direkt in Ihrer Fertigung mittels mobiler Einrichtungen. Alternativ können wir eine "vor-Ort-Kalibrierung" in unserem Abnahmebereich durchführen.
Quality assurance by means of DAkkS-accredited calibration (1)
DAkkS-akkreditierte Kalibrierscheine stellen den höchsten industriellen Kalibrierstandard in Deutschland dar. Sie haben die höchste Zuverlässigkeit, sind international anerkannt und vor Gericht verbindlich.
Erfüllen Sie die Anforderungen geltender Normen und Regularien beispielsweise für die Automobil- oder Medizintechnik-Branche (ISO 9000 ff, IATF 16949, Verordnung (EU) 2017/745 etc.) an ein lückenlos rückführbar dokumentiertes Kalibrierverfahren und gewährleisten Sie somit internationale Vergleichbarkeit und Anerkennung Ihrer Messergebnisse.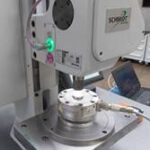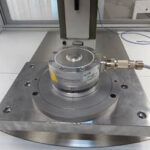 Umfang der Prüfung bei der DAkkS-akkreditierte Kalibrierung (1)
Mit diesem akkreditierten Kalibrierschein (1) wird Ihre Presse – rückgeführt auf nationale Normale – für die Messgröße "Kraft" kalibriert.
Die Kalibrierung beinhaltet die Überprüfung und Bestätigung der Funktionstüchtigkeit der Kraftmessung und wird nach dem folgenden Verfahren durchgeführt:
Vorbelastung vor der Kalibrierung in Prüfrichtung Druck mit Kalibrierhöchstkraft.
Ermittlung der Anzeigewerte bei drei Messreihen mit zunehmender Kraft, Prüfrichtung Druck.
Nach der 1. (R1) und 2. (R2) Messreihe wird das Bezugsnormal um 120 Grad gedreht.
Vor jeder Messreihe wird der Kalibriergegenstand genullt.
Ablesen der Nullpunktabweichung nach Entlastung, nach jeder Messreihe
Standardwerte für Kraftstufen: 10 %, 20 %, 40 %, 60 %, 80 % und 100 % der Nennkraft. Bei elektrischen Pressen können zwei weitere Kraftstufen kalibriert werden: ½ (Spitzenkraft – Nennkraft) und Spitzenkraft. Nach Absprache werden abweichende Kraftstufen berücksichtigt
Umfang der Werks-Kalibrierung
Für Kraft-Weg-überwachte SCHMIDT® Pressensysteme beinhaltet die Kalibrierung folgende Leistungen vor Ort: die Überprüfung des Messsystems, die Kalibrierung, die Ausstellung eines Kalibrierscheins sowie die Anbringung eines Kalibrieraufklebers an der Maschine.
What is the difference between a DAkkS-accredited calibration and a factory calibration?
Der bedeutende Unterschied zwischen den beiden Kalibrierungen ist, dass nur eine Kalibrierung nach einem akkreditierten Verfahren (1) ("DAkkS-akkreditierte Kalibrierung") die Rückführbarkeit auf das nationale Normal garantiert. Entsprechend der Rangfolge der Normale – von Gebrauchs- oder Werksnormalen über Bezugsnormale bis hin zum nationalen Normal – entsteht eine Kalibrierhierarchie.
Die Messergebnisse mit beigeordneter Messunsicherheit werden ermittelt und dokumentiert. Die Kalibrierung nach ISO/IEC 17025 ist im Vergleich zur Werks-Kalibrierung international anerkannt, in der Regel mit geringerer Messunsicherheit behaftet und auch umfangreicher.
Presentation of the different verification options from factory calibration to accredited measurement (DAkkS; formerly also DKD) to the national metrology institute, the PTB.
.
PTB/
nationales Normal
.
SCHMIDT®
DAkkS-akkreditierte Kalibrierung (1)

.
.
SCHMIDT®
Werkskalibrierung
.
.

(1) Accredited services shall be in accordance with the scope of accreditation listed in the attachment to certificate D-K-21939-01-00. All other services do not include an accredited report and consequently are not covered by the EA MLA.