SCHMIDT® ManualPress
Hand lever presses from 0.4 kN to 22 kN
Efficientmanufacturing requires appropriate means of production – not always automation. In particular, with small productionruns, manual presses are often the most cost effective solutions.
We are continually developing the range of manual presses so that you can achieve your production targets. The expertise we have gained from our exposure to numerous production applications has been implemented in our new models. Therefore, we can offer a wide range of manual presses to suit all requirements.
Characteristics ManualPress
Flexibility
Quick conversion of manual presses through simple and safe adjustment of the working height
Ground press tables allow reproducible positioning of your tools
Fitting holes in the ram and table top mean you don't waste time aligning the tools
Ergonomics
The starting position of the hand lever can be varied by 360 °
Ergonomic horizontal pull variants (111/113)
Version available for left and right-handers
The slide restoring force can be adapted to different tool weights
Precision
Alignment < 0.05 mm between upper and lower tool Maintenance-free
No lubrication necessary
Long service life
Depending on the application, you can choose between a variety of rack presses and toggle presses. In addition, a modular product design gives you the opportunity to choose a wide range of equipment options.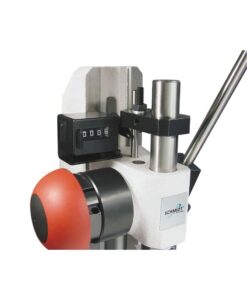 Mechanical counter
A four digit counter monitors the number of pieces produced. The counter is provided with a reset function.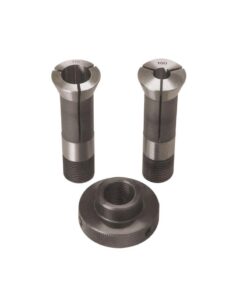 Collets
For the rack and pinion presses No. 1 and No. 2, collet bore diameter of 1 to 17 mm.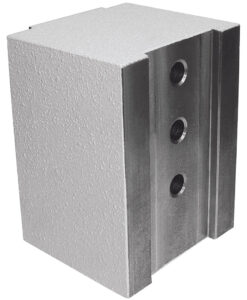 Throat extension block
We offer various sizes for extended throat depths.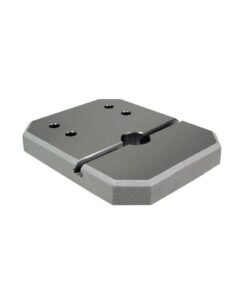 Special fixture mounting plate
Special fixture tabletops, designed in conjunction with throat extension blocks, provide ram to table bore alignment when spacer is used.
Ergonomic left-handed design.
With most press types, lefthanded or left-/right-handed design is an available option.
Upper tooling adapter
Adapter for tools with a diameter of 5 – 20 mm.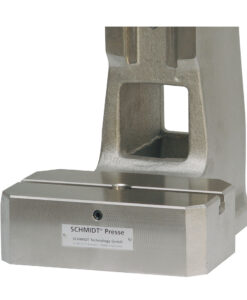 Nickel plated design
Press frames and cast parts are electroless nickel-plated, steel components are black oxide finished, aluminum parts are anodized, precision steel surfaces are untreated.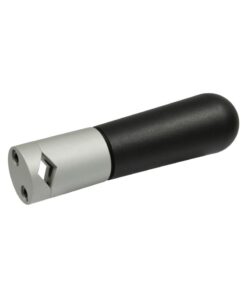 Ergonomic handle
Swivelling handle for improved comfort; easy and flexible assembly on the hand lever.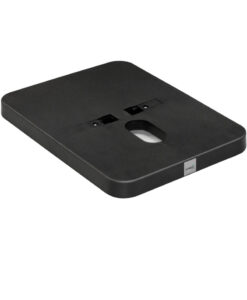 Press base
Plastic (250 x 340 mm), including fasteners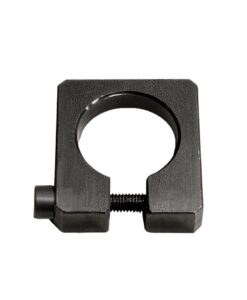 Stop clamp
For Toggle Presses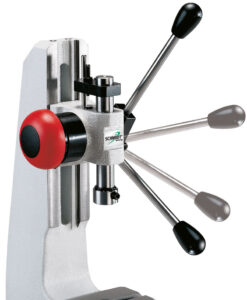 Return stroke lock
The return stroke lock guarantees reaching the required pressing depth with every stroke.
TDC (Top Dead Center) position.
First locking position: Loose tools can still be aligned.
Second locking position before BDC (Bottom Dead Center). From here you can only continue to BDC.
After reaching BDC (Bottom Dead Center) and completing the stroke the return stroke lock is released. This guarantees a repeatable BDC and thus a constant press depth.
The emergency button releases the locking function in any position.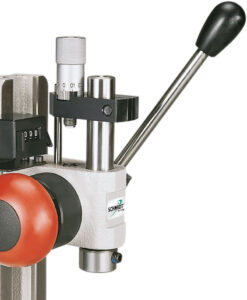 Fine adjustment with micrometer scale serves as stop for the rack and pinion presses
An optional micrometer adjustable stop developed specifically for applications that need fine adjustment of the BDC. The robust and precise design ensures the repeatability of the stop, no matter how many strokes are taken.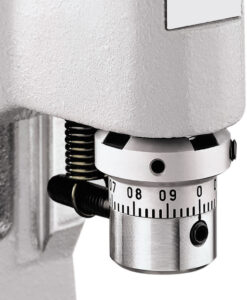 Fine adjustment with micrometer scale for toggle presses
By loosening the tensioning screw and turning the adjust-ing nut with the same tool, the setting of the BDC can be adjusted infinitely.The adjustment in a range of 1⁄100 of mm is reached rapidly and precisely.
SCHMIDT® Presses product catalog
Find out everything about the various functions of our presses.
download PDF