SCHMIDT® CamPress 11N
The best of both worlds
We have merged the best of the two types of hand lever press toggle press and rack and pinion press and developed the SCHMIDT® CamPress 11N from them. Thanks to this clever mechanism, the patented assembly press is characterized by particularly smooth operation and strong force at the end of the stroke. The ingenious kinematics make the manual CamPress 11N particularly ergonomic and user-friendly.
Highly efficient mechanics
The unique kinematics creates a high, linear force curve with a high breakaway torque at the beginning of the slide movement and a steep increase in force at the end of the stroke; and that with constant hand strength.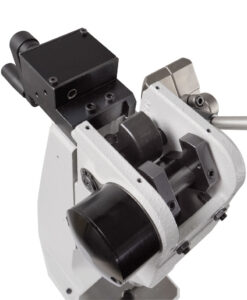 The comparison of characteristics clearly shows the advantage of the force curve of the cam press in contrast to conventional rack and pinion presses as well as toggle presses and reflects the outstanding efficiency of the cam press.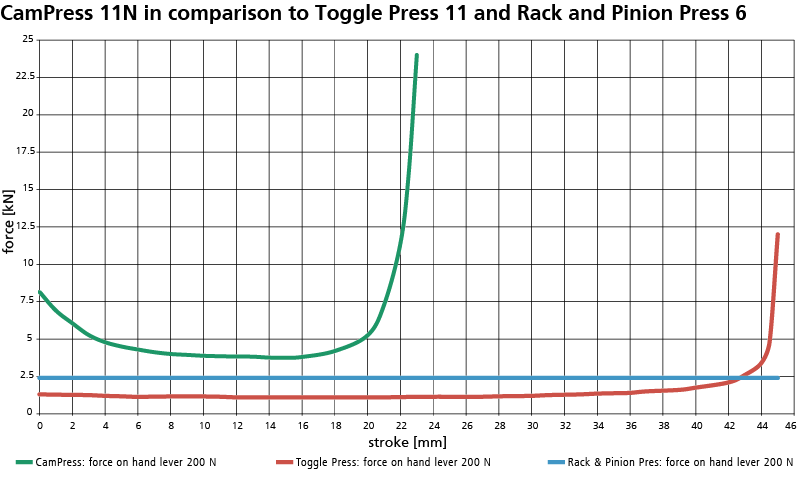 Diversity
The combination of linear and exponential force curve characteristics offers undreamt-of and, above all, flexible application possibilities. The following application examples are representative: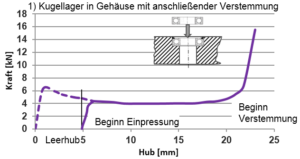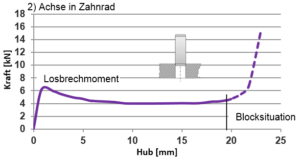 The press also offers the possibility of permanent application of force such as B. when gluing or curing through the appropriate setting of the toggle lever beyond the extended position.
Ergonomics
The use of the counterweights and the ErgoHandle ensures a smooth sequence of movements and joint-friendly operation of the hand lever. Both components are part of the standard scope of delivery.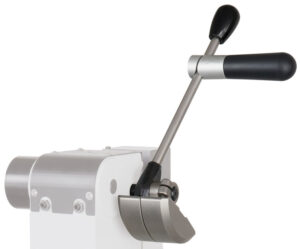 Optimized return stroke mechanism for manual lever presses with ergonomic handle.
Options
Of course, the tried and tested options can also be used here:
Return stroke lock
Fine tuning
Mechanical counter
Height adjustment with crank