SCHMIDT® Sensor Adjustments and Sensor Calibrations
Our Services
Precise flow calibration in our own Calibration Service Center

In an atmospheric environment
In the closed pressure reference channel from wN = 1 m/s to wN = 220 m/s
Measurement of vertical flows for laminar flow sensors
Factory calibration of InLine volume flow sensors

Standard precision and high precision adjustment (order option; adjustment of measuring range and accuracy class, e.g. 3% or 1% class [depending on type])
Calibration certificate (DAkkS accredited calibration(1); only atmospheric for wR = 0.1 m /s to wR = 40 m/s (2)) or factory calibration certificate (for all the other above mentioned measuring ranges) – traceability to national and international standards
All wind tunnels are regularly calibrated using a Laser-Doppler-Anemometers (LDA)
Supply of calibrators for checking the measuring sections on site
Calibration contract for cleanroom sensors:
Incoming inspection (visual and electronically) with "as found" calibration
Issue of a calibration certificate (DAkkS accredited calibration) (1) or factory calibration certificate
Sighting and, if necessary, cleaning of the sensor element
Professional and proper storage in separated stock
Insurance and goods management
On-time adjustment and "as left" calibration with calibration certificate (DAkkS accredited calibration) (1) or factory calibration certificate
Confirmed delivery date
For the preparation of calibration certificates, SCHMIDT Technology has several state-of-the-art wind tunnels at its disposal, in which SCHMIDT® flow sensors are measured fully automatically. The wind tunnels have highly accurate references that are traceable to national standards. The regular inspection of all wind tunnels of our calibration laboratory is subject to SCHMIDT Technology's internal monitoring in accordance with our QM system according to DIN EN ISO/IEC 17025.
Calibration and competence
The competence of a flow sensor manufacturer begins with the selection of the right wind tunnel. All wind tunnels we use have been carefully planned and optimised precisely for your applications. Every new flow sensor from SCHMIDT Technology undergoes an intensive test programme in the wind tunnel before it is released for the use by the customer. Behind everything lies our company's profound knowledge of flow mechanics of gases and the physical functioning of our flow sensors.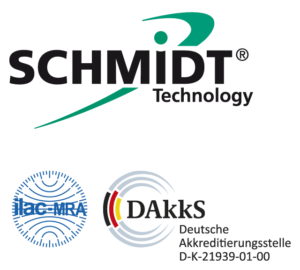 member of Deutschen Kalibrierdienst

Atmospheric wind tunnels
Very low turbulence and a precise flow profile are the special features of our two atmospheric wind tunnels. The measuring ranges extend from wN = 0.1 m/s to wN = 60 m/s for factory calibrations and from wR = 0.1 m/s to wR = 40 m/s (2) for DAkkS accredited calibrations (1), so that most SCHMIDT® flow sensors can be adjusted and calibrated with these wind tunnels. Even the smallest flow velocities, as they are indispensable in cleanroom applications, can be exactly reproduced with these wind tunnels.
Bi-directional flow sensors for applications in the field of overflow measurement are also adjusted and calibrated on our atmospheric free jet wind tunnels.
K_WK_D255 Free jet wind tunnel with Laser-Doppler-Anemometer (LDA) (1)
K_WK_D320 Free jet wind tunnel
Downstream wind tunnel
Special requirements are set on flow sensors for laminar flow applications such as in isolators, cleanroom workbenches or FFUs. Basic requirements are the process-reliable and reproducible detection of very small vertical flow velocities (0.45 m/s ±20 %), the highest possible measuring accuracy and, if applicable, a fast reaction to changing conditions.
Vertically mounted thermal anemometers generate an inherent convection of 0.05 … 0.1 m/s due to the measuring principle. This upward flow counteracts the downward flow that is actually to be measured, so that an ordinary flow sensor generally indicates 10 … 20 % too little flow velocity. Conversely, the fan speeds are increased and significantly more flow is generated than necessary. Compensation for this deviation is only possible through vertical adjustment in a downstream wind tunnel.
Our aspiration to deliver highly precise flow sensors was the impetus to develop a unique vertical flow wind tunnel. In our world's only vertical flow wind tunnel, all sensors for laminar flow applications are adjusted and calibrated at the highest technical level. In this way, we guarantee highly precise measurement results and compliance with the required specifications, even with vertical mounting.
F_WK: Downstream wind tunnel (vertical)
Pressurized wind tunnels for insertion type flow sensors and "InLine" mass flow sensors
With these wind tunnels, SCHMIDT Technology has two calibration wind tunnels that are unique in Europe. This allows standard flow velocities of up to wN = 220 m/s to be generated and sensors to be adjusted and calibrated under overpressure. High standard flow rates are usually generated by increasing the pressure and not by increasing the real velocity. Therefore, sensors adjusted and calibrated under pressure represent the real applications better than conventionally adjusted sensors under atmospheric conditions.
The superior flow quality of our pressurized wind tunnels allows SCHMIDT® high-speed and mass flow sensors to be calibrated with lowest tolerances.
K_DWK: Pressurized wind tunnel for insertion type flow sensors
Closed loop system
wN = 0,15 … 712 m³/h (@ 1 … 6 barg)
1 … 6 bar absolute
Low turbulence
Drive 3 kW
Cooling register
K_IWK: Pressurized wind tunnel for "InLine" mass flow sensors
In addition to the wind tunnels described in detail above, SCHMIDT Technology has further product-specific wind tunnels available. We also have additional development wind tunnels, real gas calibration wind tunnels and other measuring and testing equipment to adequately solve a wide range of measuring tasks.
Any further questions?
Do you have further questions or need support regarding flow sensors, calibration, adjustment, declaration of decontamination, service returns in general or do you need advice for a new application with flow measurement? We are at your disposal!
+49 (0) 77 24 / 8 99-198
(1) Accredited services correspond to the scope of accreditation listed in Document Annex D-K-21939-01-00. All other services do not include an accredited report and are consequently not covered by the EA MLA
(2) Corresponds to wN = 0.1 m/s to wN = 35 m/s (e.g. for calibration of thermal anemometers).
(3) In general the defined calibration points represent approximate values and cannot necessarily be hit exactly (influenced by wind tunnel control).
(4) Related to the end of the measuring range or to max. wN = 35 m/s, however, min. wN = 0.2 m/s; rounded to 2 decimal places (3).