SCHMIDT® Pencil Mechanisms and Systems
Push and twist pencils are traditional and at the same time fashionable. Especially in our computer age the fast and erasable pencil stroke is getting increasingly popular. Using a mechanical pencil to make entries in your agenda, taking quick notes during a conversation or making a sketch is most comfortable.
Today, SCHMIDT® push pencil mechanisms are mostly designed and produced according to customers' requirements. Your special demands and product profiles are always a challenge for us and our ambitious specialists.
SCHMIDT® push pencil mechanisms have proven their quality in many mechanical pencils of many renowned pen manufacturers during decades.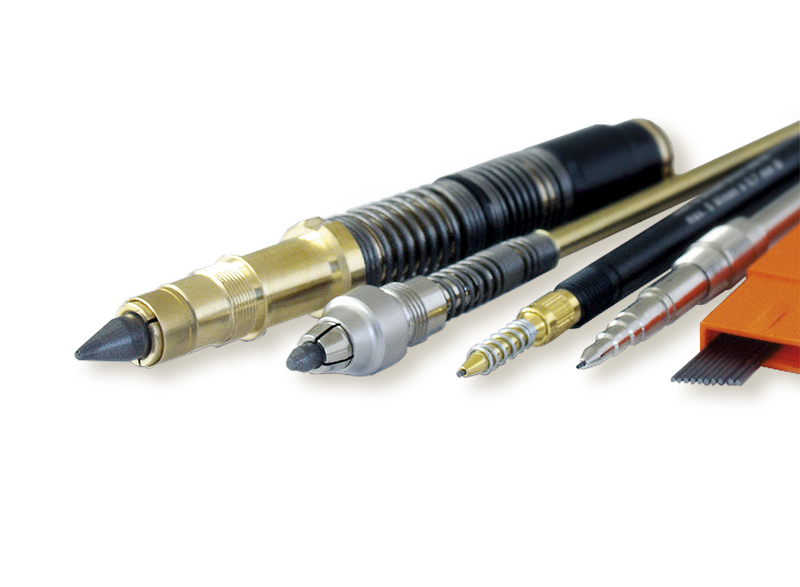 DSM 5.6
Leads 5.6 mm,
leads are not included

DSM 3.15
Leads 3.15 mm, chrome-plated metal point
accessories: leads, erasers

Accessories DSM 3.15
threaded bush and push button

DBS 11
Twist mechanism, leads 0.9 mm
accessories: clamping sleeve, eraser

DBS 11
Twist mechanism, leads 0.9 mm
accessories: clamping sleeve, eraser

High-Polymer-Leads
in 12 pcs. plastic cassette 0.5 mm, 0.7 mm and 0.9 mm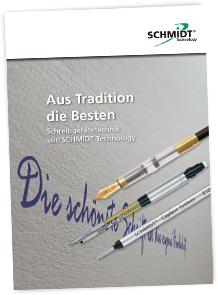 SCHMIDT® Writing Instruments Technology product catalog
Find out everything about the many possible applications of our writing instruments technology.
download PDF
service / spare part / repair request +49 (0) 77 24 / 8 99-0