SCHMIDT® Fountain Pen Technology
and Cartridge-Rollerball-System
The culture of writing is celebrated by the use of the most precious writing instrument, the fountain pen. Therefore, we don't accept any compromise when the quality of your writing instrument is concerned.
Against this background, we have been developing and manufacturing complete fountain pen modules of the very highest quality for the world's major brands for decades.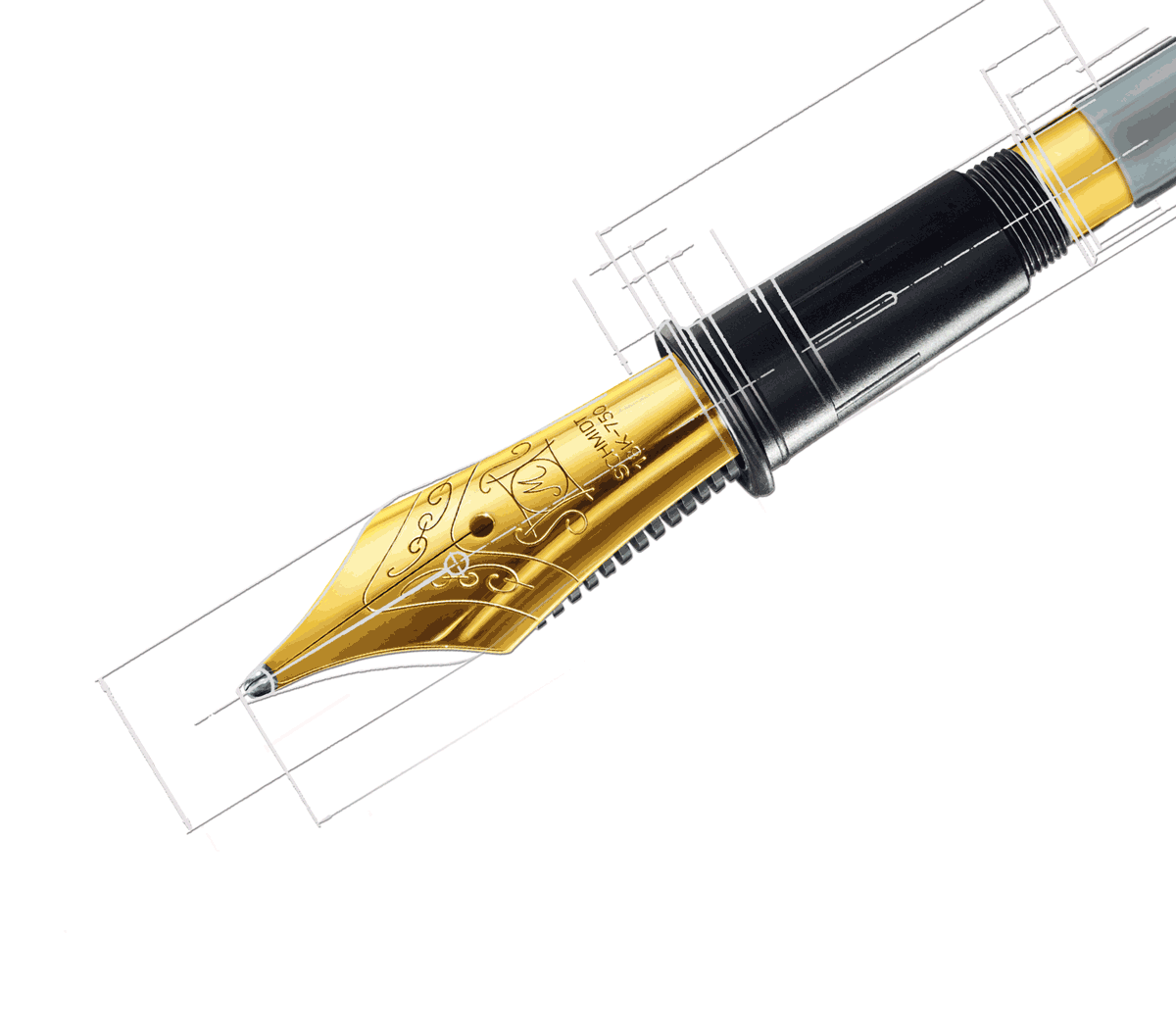 SCHMIDT® fountain pen technology is offering a vast variety of choices for the design of your fountain pens. For decades SCHMIDT Technology has been developing and producing finest fountain pen nib units for the most famous brands of the world.
The SCHMIDT® fountain pen programme offers a wide array of different writing nibs of different materials and surface treatments.
This range is completed by a collection of piston converters and most recently a ready-to-be-build-in piston fountain pen unit.
SCHMIDT® ink feeding system FH 452
ensures a reliable function in all situations. Even in the cabin of an aircraft, where the conditions are really extreme, this system guarantees absolute security.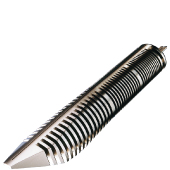 …safe on everyday life conditions.
Extensive tests in co-operation with ­Lufthansa have confirmed: SCHMIDT® ink feeding systems meet the highest safety requirements.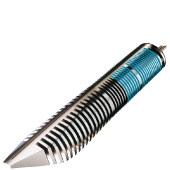 … flexible with decrease of pressure.
With increasing flight altitude, the cabin pressure decreases and the SCHMIDT® ink feeding system fills. Even in this extreme situation SCHMIDT® fountain pen technology comes up to the highest requirements of a first-rate quality product.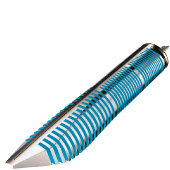 … reliable in cruising altitude.
In an altitude of 11000 m the cabin pressure decreases to a value corresponding to an altitude of 2500 m above sea level (approx. 750 mbar). Even under these extreme conditions the precise SCHMIDT® ink feeding system guarantees writing pleasure without leakage.
FH 452
Fountain pen nib unit with nib wing span 8.5 mm and fixation ring
altitude stability 2500 m, including cap sealing

The SCHMIDT® Cartridge-Rollerball-System PRS is the innovative basis for new rollerball pen concepts in premium quality.
Thanks to its specially developed low-wear ball tip, the SCHMIDT® cartridge-rollerball-system PRS comes up with previously unreached durability.
The SCHMIDT® cartridge-rollerball-system PRS follows the functional principle of a fountain pen with common ink cartridges.
The writing tip is used again and again and will not be discarded.
Writing instruments, fitted with the SCHMIDT® cartridge-rollerball-system PRS are therefore not only very economical but in particular environmentally friendly.
Talk to us, we support you with all our experience.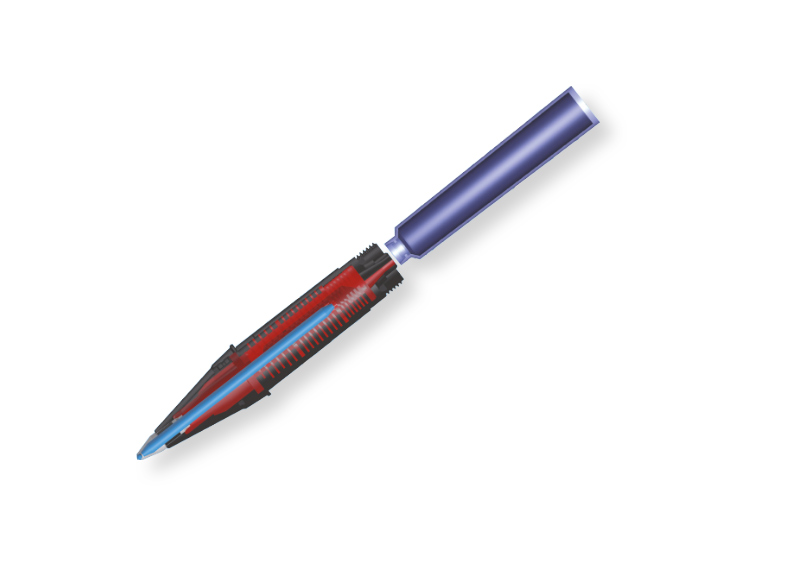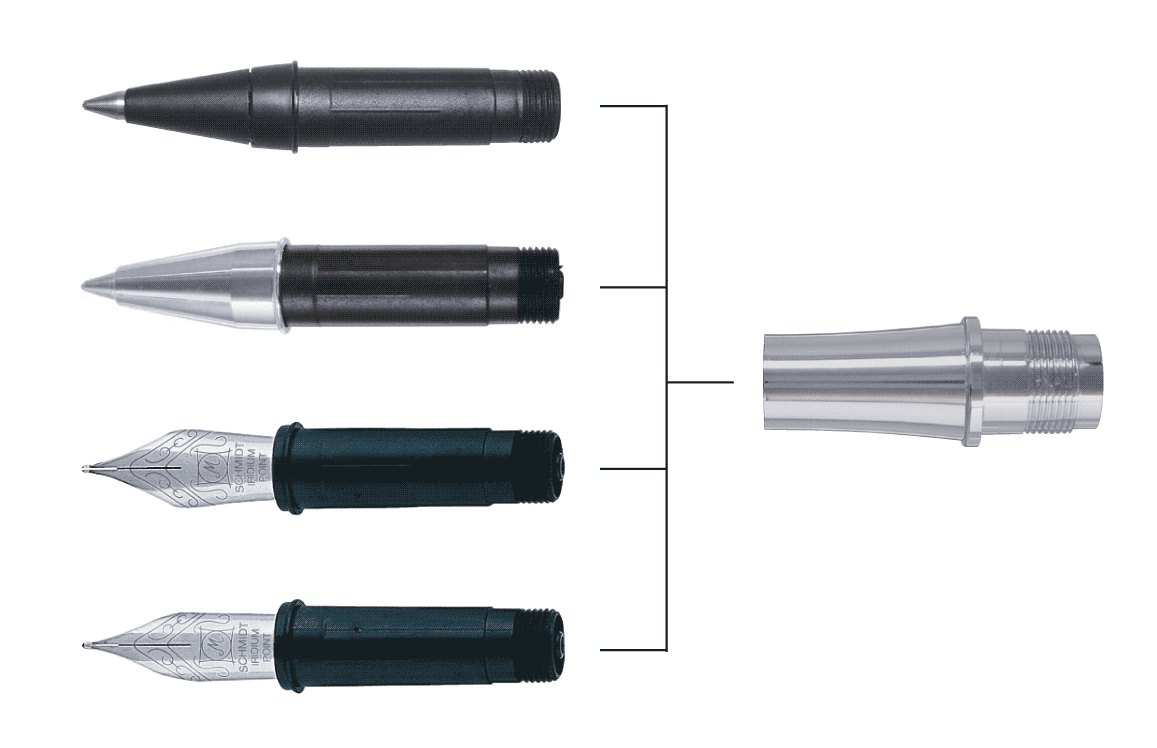 PRS in alternation with ventilated
FP sealing cap
PRS plastic
Cartridge-Rollerball-System with 0.5 mm and 0.7 mm TC ball, compatible with FH 41 and FH 241

PRS Metall
Cartridge-Rollerball-System with 0.5 mm and 0.7 mm TC ball, compatible with FH 41 and FH 241

KFH 450
Ready to mount piston fountain pen unit with nib wing span 8.5 mm, based on nib unit FH 452
including cap sealing

KFH 300
Ready to mount piston fountain pen unit with nib wing span 7.7 mm, based on nib unit FH 341
including cap sealing

K6
Piston converter for screw-in assembly with two metal bands, gold or nickel-plated
crystal clear ink reservoir with elastic sealing
imprint on request

K5
Piston converter for plug-in assembly with two metal bands, gold or nickel-plated
crystal clear ink reservoir with elastic sealing
imprint on request

K2
Piston converter for plug-in assembly with one metal band, nickel-plated, imprint on request

K1
Piston converter for plug-in assembly
·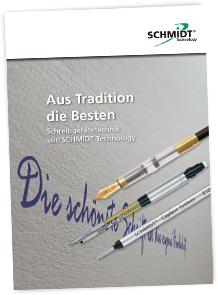 SCHMIDT® Writing Instruments Technology product catalog
Find out everything about the many possible applications of our writing instruments technology.
download PDF